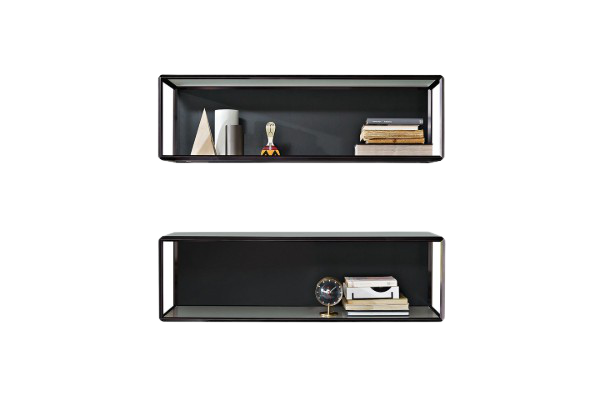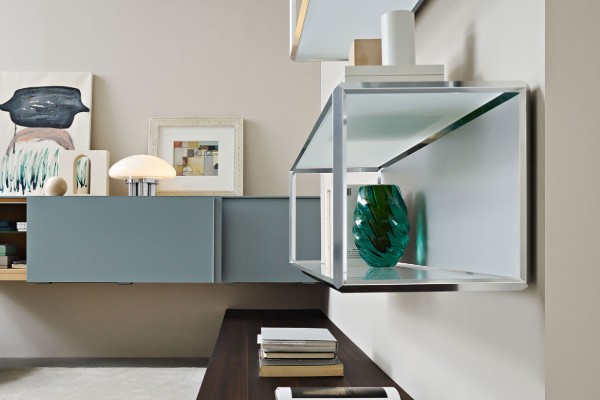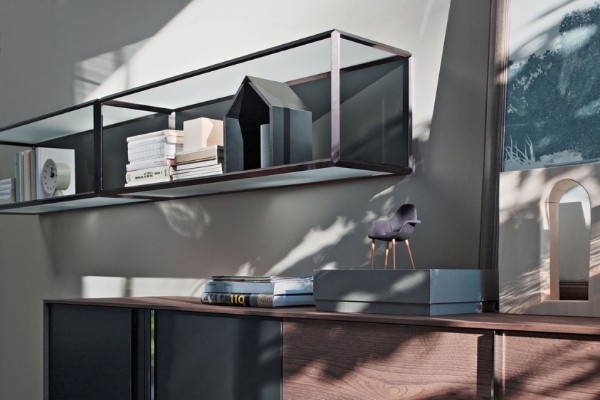 Grado Shelf Molteni&C
Designer: Ron Gilad
Manufacturer: Molteni&C
Starting from: € 717,00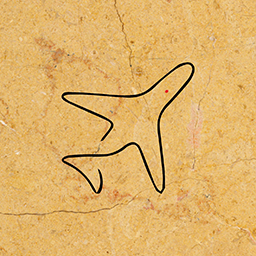 Worldwide Delivery and Installation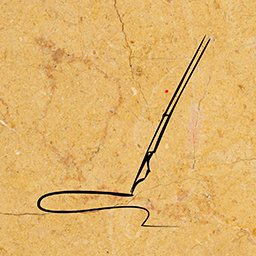 Customizable with our Professional Advice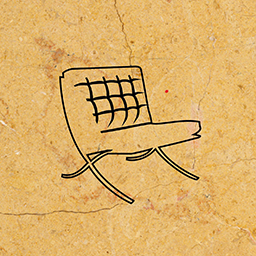 100% Made in Italy Certified
Contact us
Grado Molteni&C Description
Molteni&C's Grado° Shelf represents a forward-thinking mindset that allows mundane items such as bookshelves to have an updated appearance. The simplicity that the Grado° Shelf possesses receives an upgrade through the materials and methods used for its assembly. This reworking enables the Molteni&C Grado° to serve its storage keeping duties while adding aesthetic value to its location. Designed by Ron Gilad, this product combines practical ingenuity with inspired designs to create a shelf that blurs the line between abstraction and function. The Grado° will undoubtedly fit into any design scheme with its beautifully utilitarian profile.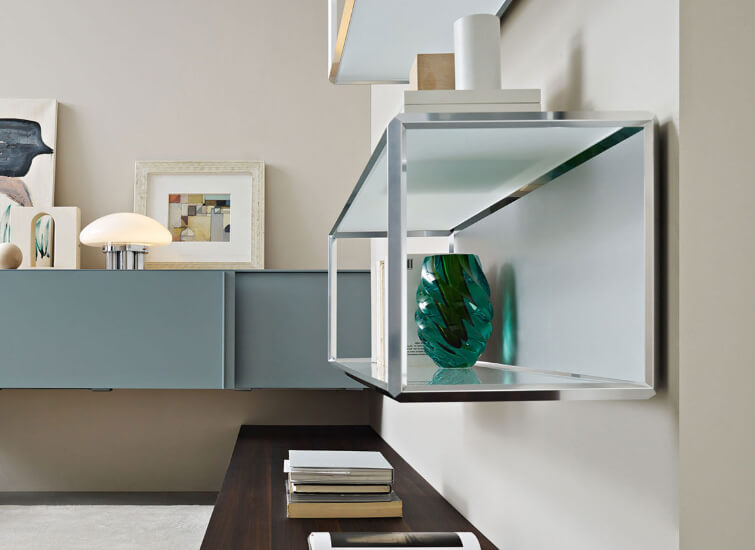 Grado Shelf Molteni&C Features
The Molteni&C Grado° is a wall-mounted element, created as a bookcase or storage/display area for objects and personal effects. This product can be placed in any location with great ease. It is quite the versatile furniture piece and is complementary when placed next to items with metal finishes or lacquers and wooden selections from the Molteni Range. Its framework is composed of extruded and anodized aluminium, joined with metal brackets. It also utilizes tempered etched glass panels that are 4mm thick along with composite back panels of MDF and aluminium sheets.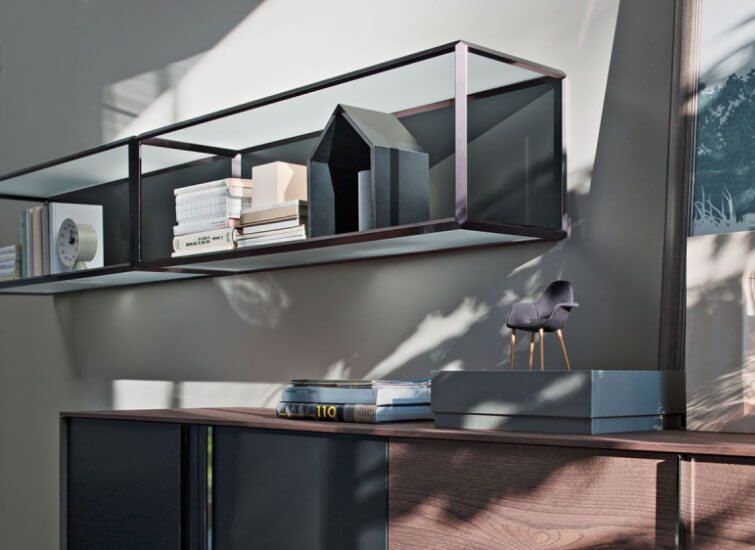 Grado Shelf Materials
The Molteni&C Grado° comes in several finishes that can conform to any design scheme you may have in mind. Its aluminium frame comes in three available finishes in polished aluminium, black chrome, and pewter. Its back panels have several options for its finishing material, namely chalk white, pearl, silica, sand, and silver grey. There are also two wooden variants in eucalyptus or walnut available for the back panel finish, while its glass shelves consist of etched lacquered glass. These finishing options permit the Grado° to occupy any area needing an excellent storage element.
Grado Shelf Molteni&C Compositions
Molteni&C's Grado° is a system that you can customize to a certain degree. These shelves are available in 31.4x110x33.3 cm, an apt measurement for an excellent shelving implement. It has a 15kg load limit that allows it to store almost any decorative item, gaming console, or audio and video equipment that you may want to display. You may place one or several units of this product in any area that requires a storage solution and decorative element. In any situation, the Molteni&C Grado° Shelf will serve its purpose in more ways than one.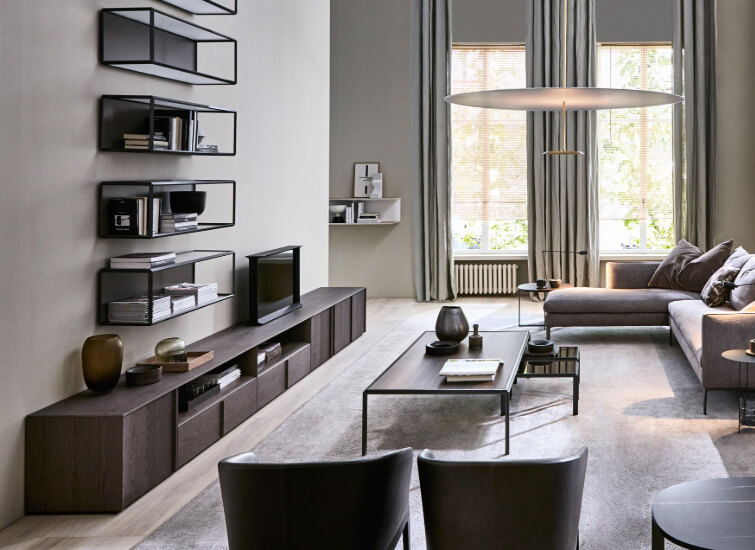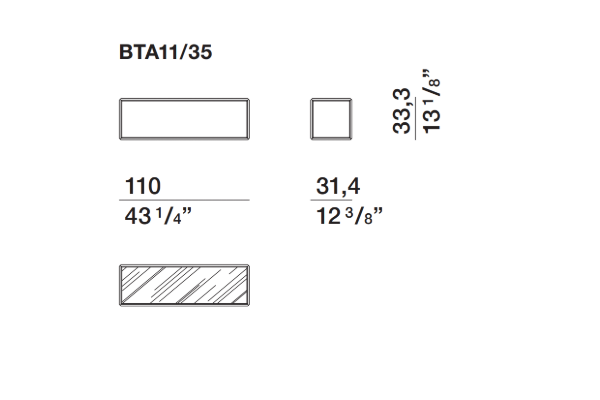 Esperiri Milano For Molteni&C
The Grado° is a designer shelving system that pushes the boundaries of what design can achieve, which is what we at Esperiri constantly aim for. Our curated collection highlights our extensive Italian design heritage which we imbue in every project. Our team of interior designers and architects are prepared to help you select the right elements for your interiors or layout entire design projects. Simply visit us in our Milan office or contact us remotely through our Italian Interior Design Online service. Our worldwide Italian Furniture Supply service will grant you access to superior Italian industrial or bespoke furnishings, anywhere you are. And for an even more in-depth experience, you can join our Italian Furniture Shopping Tour to see Italian design while enjoying the real Italian lifestyle and understand what Made in Italy is truly about.