Porro Walk in Closet
Rationality and functionality are the two words that best describe Porro's modular walk in closet. It is an innovative system designed by Piero Lissoni able to contain and at the same time show the objects stored in a completely elegant way.
Modular walk in closet, the new Porro storage system
Porro Walk in Closet distinguishes itself from other walk in closet systems for its ability to comply with the space and ambience where it is fitted, almost disappearing in environments with limited dimensions while creating new scenographies of living in larger spaces.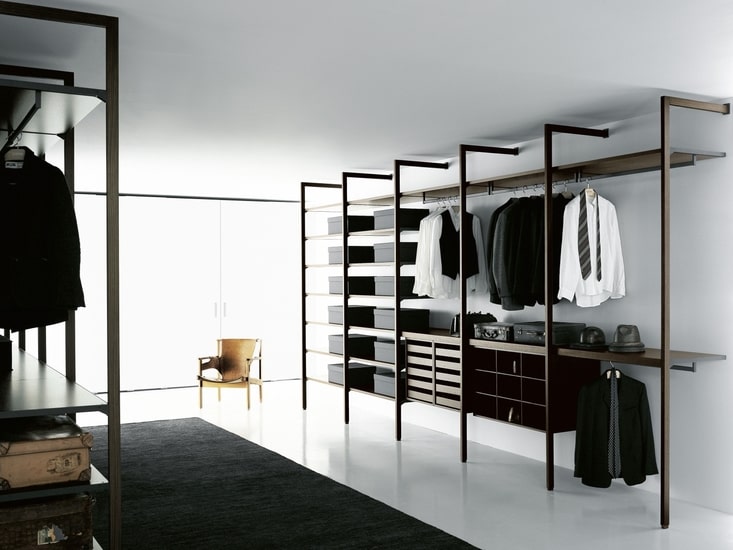 Porro Walk in Closet features
Porro Walk in Closet consists of a series of exposed mullions and transoms that become the only load-bearing elements of the structure. The horizontal cross beams, available in different standard sizes, and the vertical uprights, which can be positioned side by side, give the possibility of creating extremely flexible and light compositions.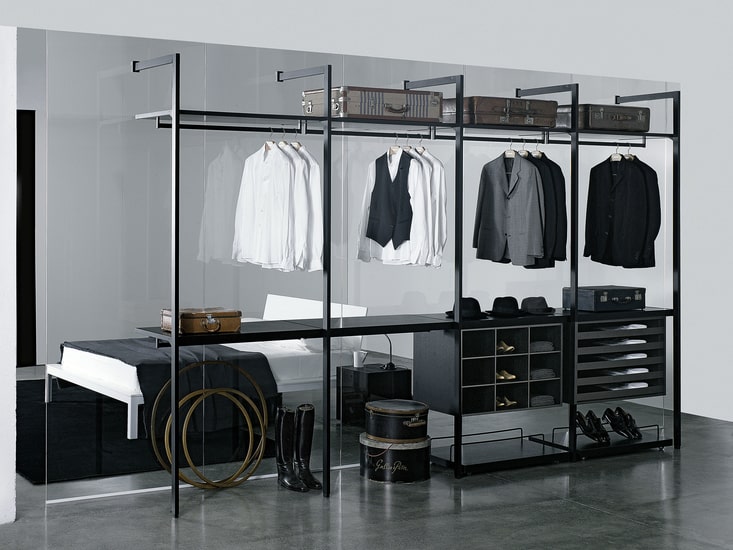 The essential and geometric lines of this modular closet system are animated by the internal equipment, which enrich and make this storage space unique.
Porro Walk in Closet finishings
The structure, the main element and hallmark of Porro modular walk in closet, has been designed and conceived with high quality materials to ensure greater durability. The finish available for the uprights and transoms is white, black and cuve' painted aluminium or covered with mongoi wood effect, eucalyptus and hemlock ash.
As far as the materials of the internal equipment are concerned, a variety of fine woods is available such as white cherry wood, black sugi, ash-coloured hemlock or painted black, mongoi and eucalyptus. The hanger rods and the profiles of the various internal elements are in painted aluminium. The drawers can also be made of glass, to make the overall appearance of Porro Walk in Closet even lighter.
Porro Walk in Closet composition
Porro modular walk in closet mullions and transoms are available in six different widths: 500 mm, 600 mm, 750 mm, 1000 mm, 1200 mm, 1500 mm. The depth of the different modules is only one and is 590 mm.
Regarding the heights of the uprights, also in this case you can choose from five different sizes available: 1953 mm, 2273 mm, 2433 mm, 2593 mm, 2913 mm.
Moreover Porro Walk in Closet can be enriched with internal equipment such as drawer sets, trouser and sweater holders and many other accessories.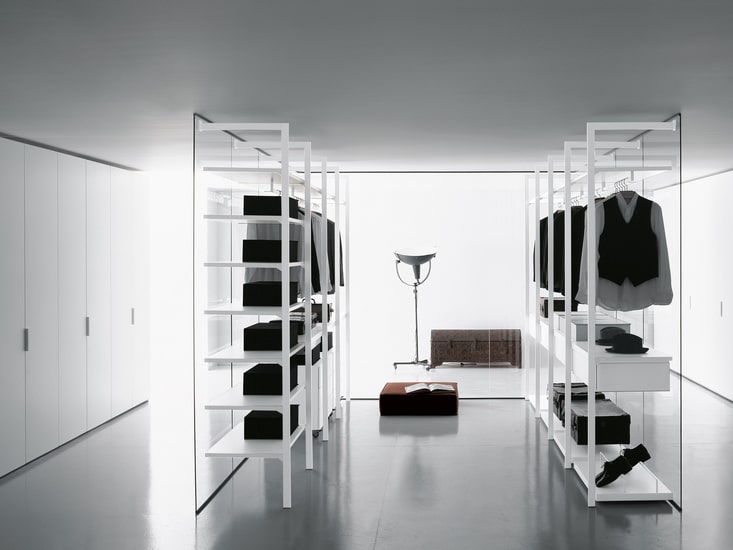 Porro Walk in Closet and Esperiri Milano
Thanks to our services of Italian Interior Design and Italian Furniture Supply we will accompany you step by step in the best composition of your Porro Modular walk in closet, supporting you at all times, from the first compositional ideas to the shipping and assembly on site by our Italian craftsmen.
If you are curious to see live Porro Walk in Closet and touch the best Italian high-end furnishings, contact us for an organized Shopping Tour. Together with our team of interior designers you will get to know the real Made in Italy design and live the Italian lifestyle experience.
If you prefer to stay at home you can use our convenient Italian Interior Design Online service: our experts will guide you in the choice of the most suitable products for your needs, advising you and guaranteeing you direct and telematic access to the catalogues of the best Italian production companies. Interior design with us has no limits.